Peter Courtney Minto Island Bridge

The Peter Courtney Minto Island Bridge and Trail is the last critical link in connecting 1,200 acres of parks and more than 20 miles of off-street trails between South Salem, downtown, and West Salem. When combined, this acreage is larger than New York City's Central Park. More info HERE.
About
Our mission is to support and encourage a healthy approach to running and training for runners of all ages and all levels of ability. Through the camaraderie of a club atmosphere, members enjoy running for the purpose of general fitness as well as personal and team goals. As a group, the Willamette Valley Road Runners promote and participate in running and fitness events throughout the Willamette Valley.
To learn more about our club check out our bylaws HERE.
Board members
William White, President
Tom Golden, Vice President
Brenda Turner Treasurer
Nicola Traudt, Secretary
Russ Lince, Director
Adam Schaeffer, Director
Volunteers & Race Directors
J Hanson, Website/tech support
Dan Meireis, Graphic designer
LizAnn Saxe, Scholarship board director
Brenda Turner & Adam Schaeffer, Shoes for Athletes coordinators
Gordon Cully, Photographer
Molly Gehley, Cascade Half Marathon RD
Tom Golden, Zena Road Runs RD
Nicola Traudt, Salem Summer Solstice RD
Terry Cable & Jennifer O'Sullivan, Mini Marathon RD
William White, Bush Park XC RD
Ben & Heather Stange, Eola Hills "no hills" RD
Races | Results | Photos
Remember to join the club for race & shoe discounts!
January
Cascade Half Marathon & 10k
---
February
Zena Road Runs 3 miles, 6 miles & 15k
---
June
Salem Summer Solstice 5k/10k
---
July
Monmouth Mini Marathon 2.62 miles
---
August
Bush Park XC Series
---
November
Eola Hills "No Hills" 5k/10k
---
Run with us
Opportunities for group runs in Salem are listed below.
If you would like to add a group please send us a message.
---
Social runs:
We take part in weekly runs every Monday hosted by Gallagher Fitness Resources GFR. Meet at their store at 6:00 p.m. and start heading out to run by 6:15 p.m. The route is a standard 3.2 miles around Riverfront Park and into Minto Brown Island Park to the Gallagher bench and back. All paces welcome! Options for longer distances by doing park laps while we wait to gather. After the run, we head to a local eatery to have food and drinks and enjoy each other's company.
We host occasional trail runs on Saturdays and Sundays. Keep an eye on our Facebook event page HERE and for email announcements for trail run details. All paces are welcome!
If you have a favorite running route you'd like to recommend for a group run or any questions about social runs, please message us.
---
Long runs:
Isaac's Downtown
There are around three groups meeting at 6:50 a.m. on Saturdays at Isaac's Room downtown. Paces vary from 6 to 13 minutes per mile. Distances range from 4 to 20 miles. The best way to see if one of these groups is for you is to show up and ask people what their plan is for the morning.
Gallagher Fitness Resources
GFR offers classes, clinics, and free running groups on Saturday mornings at 7 a.m. If you are a beginning runner or just want to fine-tune your performance, GFR can help you reach your goals.
Our events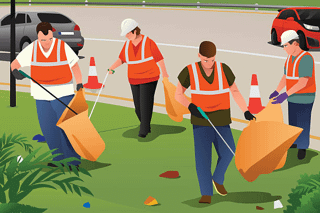 Bush Pasture Park clean-up
WVRR will be periodic clean-ups for the community. This volunteer work helps the club to get waivers on permits to use the park for races which helps us put more money toward the schools.
We will post scheduled clean-ups here and on Facebook
WVRR board meetings
Third Wednesday each month, 6:30 PM, at For Tomorrow We Die. Contact us below for details and to confirm information. Meeting minutes HERE.
(We make meetings fun)
Join
MEMBERSHIP DUES PER YEAR: $20 INDIVIDUAL – $30 COUPLE/FAMILY (up to 8 immediate family members)
Purchase a 3-year membership for $50/$75 to save even more
If you'd like to join our club use this link below using
Find current members here or check your status
Join here!
Who we support
WVRR supports our community in the following ways.

Shoes for Athletes Project:
The Willamette Valley Road Runners Club, in partnership with Gallagher Fitness Resources, is committed to supporting local student-athletes with our "Shoes for Athletes Project." Each year, mid-Willamette Valley area high schools are offered the opportunity to present two track and field team members a pair of free running shoes of their choice through Gallagher Fitness Resources in downtown Salem. Students may be selected to receive shoes by their high school coach based on financial need, for motivational purposes, or as special recognition. Special thanks to Gallagher Fitness Resources for partnering with WVRR to offer this program.

School donations:
Each race we hold supports that local school(s) athletic program that volunteers to help in race day events.
These schools take 75% of the race profits and 100% of race donations so each participant helps support their programs.

Kelsy Oldham Scholarship:
Kelsy Oldham was a 12-year competitive runner and great student when she passed in a motor vehicle accident on her way to compete in the Junior Olympics held in Idaho in 1997. Her mother passed in the accident as well. In Kelsy's memory, two scholarships have been established in her name. Those eligible are mid-Willamette Valley High School Seniors who have demonstrated outstanding academic, running, and leadership achievements. These individuals should be team players who have participated in either cross-country or track and field while in high school. Each candidate will be scored on leadership, strengths and weaknesses, financial need, athletic contribution, positive attitude, perseverance, ability to motivate others, academics, and attendance (both in school and in their sport).

Member benefits
• Proud to be part of a club that raises over $30,000 a year for local schools, athletic programs, and other charities.
• Proud to be a part of six club-sponsored races every year.
• Your registration and donations help support our scholarships & shoes for athletes program.
• Regular email updates about events.
• Discounted entry fee to any of the six club-sponsored races.
• 10% discount on shoes at Gallagher Fitness Resources.
• Social runs with GFR to get you started in your running adventures.
• Lots of great people to run with!
Archives
Contact us
Supporters